Monday, May 20, 2013
Multiplex #808: The Neutral Zone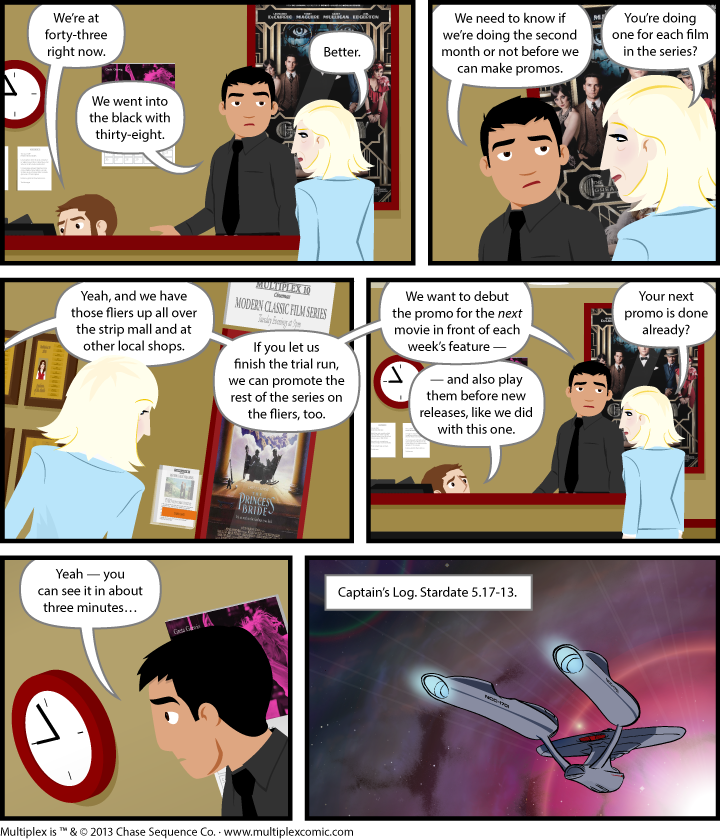 See you later this week with Kurt and Jason's promo for _Star Trek 2: The Wrath of Khan_ (or part one of it, or something like that).
Friday, May 17, 2013
Multiplex #807: Pop Culture Reference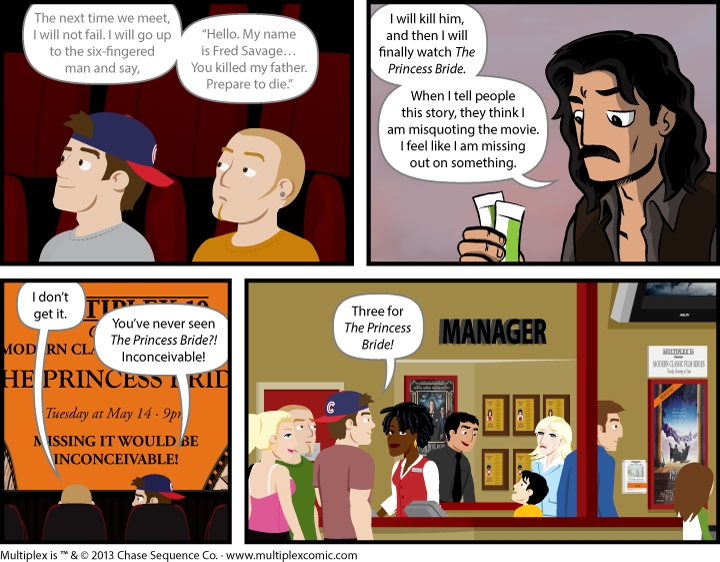 Ooookay, so one year of grad school down, two or two and a half to go!
I'm going to try to get back to a Monday/Thursday schedule for the summer — but don't quote me on that yet.
I also have to get Book Two off to the printer as soon as possible, continue developing the _Multiplex_ iOS app, work on _Multiplex: The Card Game_ a little, and maybe even get started on Book Three. Plus some other stuff. So… busy summer.
Monday, May 13, 2013
Multiplex #806: I've Never Seen Its Equal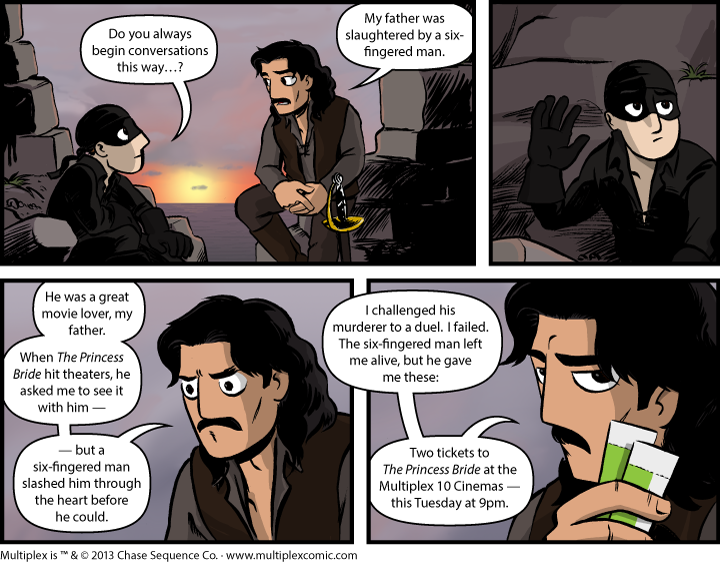 …So no, they're not in costumes_ in the theater. _I thought they gray text was a giveaway there: I've used that to indicate voices from phones, radios, or theater speakers since forever!
Jason and Kurt's promo for _The Princess Bride_ concludes on Friday. See you then!
And then I'll be on summer break, having finally wrapped up my first year of grad school and my first semester of teaching my own drawing class (as a graduate instructor in grad school). Fun times. I'll need to relax for a few days and then I can get cranking on Book 2, Kickstarter rewards _for_ Book 2, and maybe some bonus comics for Book 3. But I'm getting ahead of myself, there.
Incidentally, the title comes from a line I cut for space. I wanted to have Jason/"Inigo" ask the Man in Black if he had seen _The Princess Bride, _to which he would reply with that line, which is straight from this scene. Maybe in the Director's Cut of Book 7.
You can watch the original scene below:
Friday, May 10, 2013
Multiplex #805: They Don't Make 'Em Like They Used to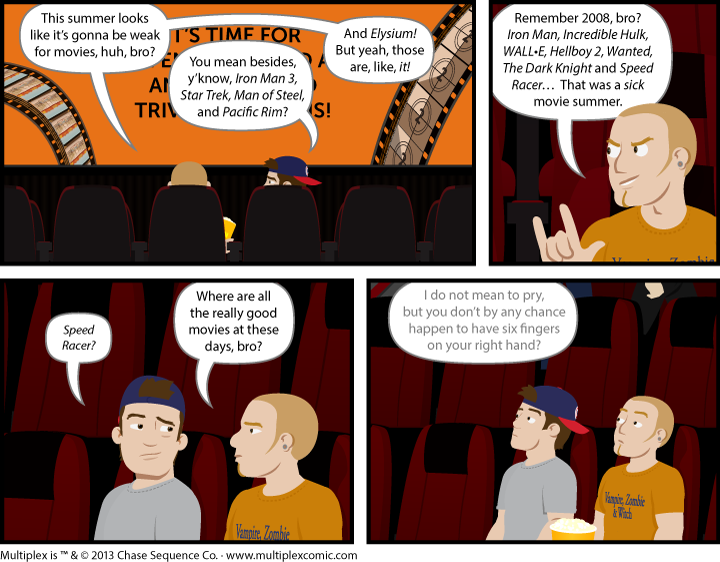 You know what would have been a great movie summer? 1982.
_Conan the Barbarian, Star Trek II: The Wrath of Khan, Blade Runner, The Thing, The Road Warrior, E.T., _and_ Poltergeist, _are all pretty great. Plus _Tron, Rocky 3, Secret of NIMH,_ and _The Beastmaster,_ if you're slumming it a little, and _Fast Times at Ridgemont High_ if you include comedies. And all of them came out between May and August!
Thursday, May 9, 2013
Trailer Watch: Alphonso Cuarán's Gravity teaser
Awwwwwww shit.
Alphonso Cuarón's long-awaited follow-up to _Children of Men, Gravity, _finally arrives on October 4th. http://dlvr.it/3LpCy3
Monday, May 6, 2013
Multiplex #804: Homesick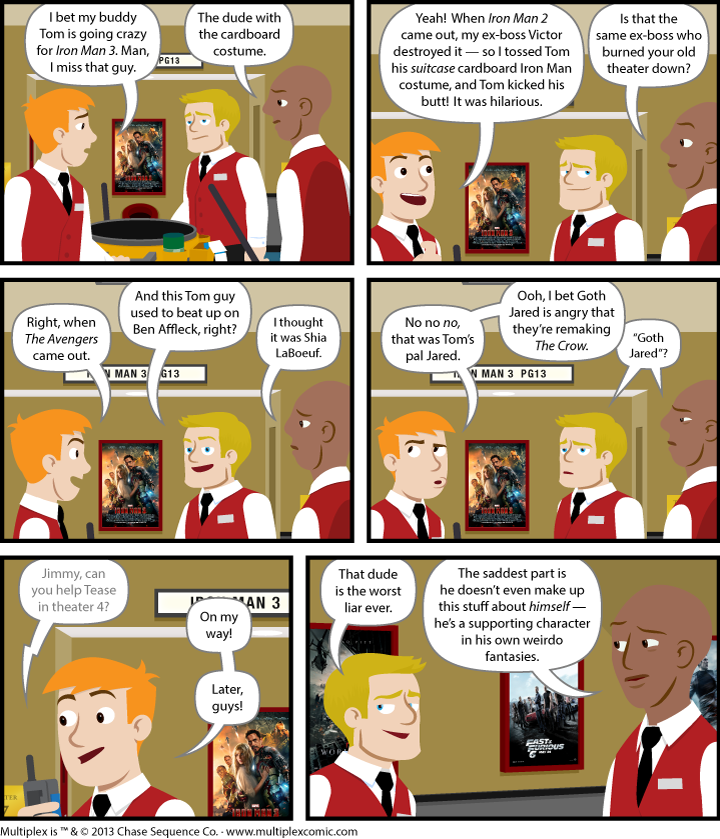 It took me long enough, but after a tease in both _Theater Hopper_ and a _Multiplex_ guest strip by Tom, I've finally brought over Jimmy. With _Iron Man 3_ out this weekend (haven't caught it yet — end of the semester crazy times), it seemed like the right time. Sorry it took me five months, Tom!
If you aren't familiar with _Theater Hopper,_ you might go on a _Theater Hopper_ archive dive with the "Jimmy" tag and get caught up on his old adventures in Iowa, but you won't need to be familiar with them to get the idea.
Incidentally, here's Coming Soon's article about Luke Evans being cast in F. Javier Gutiérrez's reboot of _The Crow._
We'll get back to Jason and Kurt's film series on Friday, so see you then. I think I'll be switching back to Monday/Thursday updates over the summer, by the way. I'll let you know if/when that happens.
Thursday, March 7, 2013
Ms. Mayer, Empress of all Yahoo!,

Hello. My name is Tim Sniffen. I've been a Yahoo! junior server administrator for eleven years.

It was with a stab of terror that I read your memo asking "all employees with work-from-home arrangements to work in Yahoo! offices." I realize we're in…
Saturday, February 9, 2013
Saturday, November 10, 2012